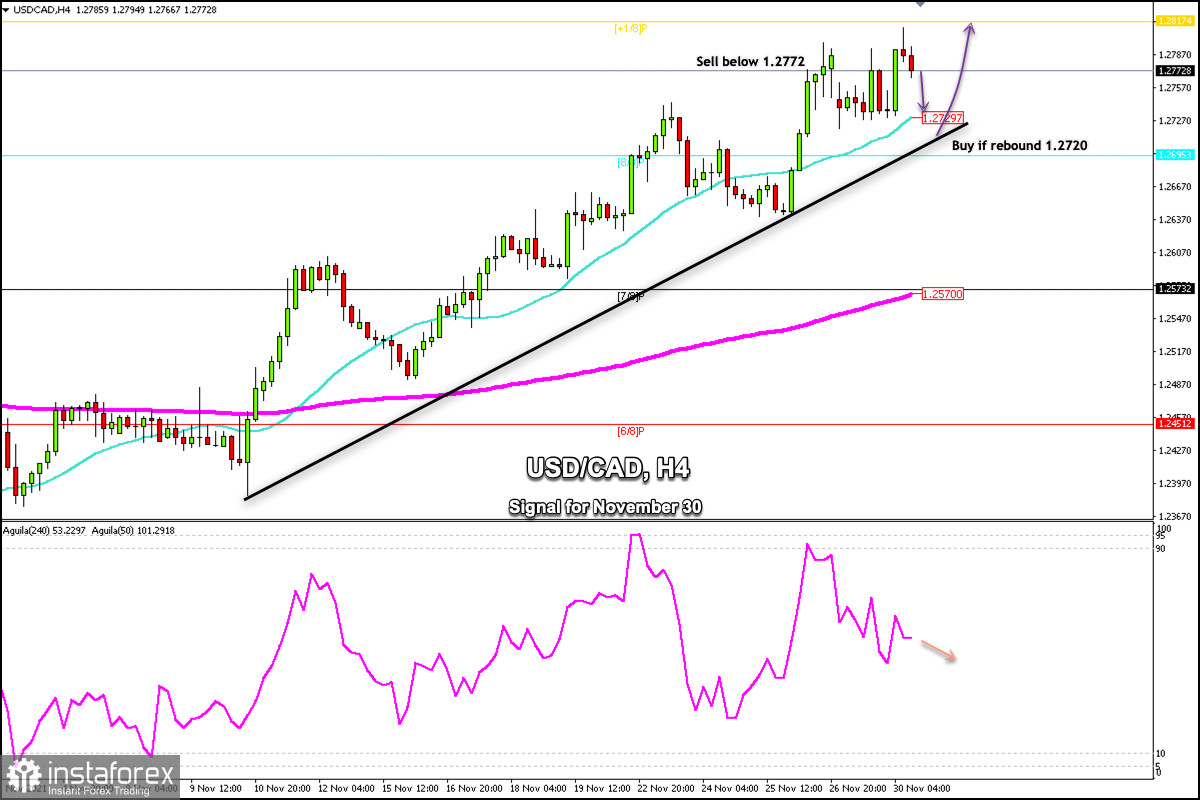 The USD / CAD pair is moving firmly higher on Tuesday, trading close to the strong resistance of 1/8 murray. At the time of writing, the pair is consolidating near daily highs around the 1.2772 level. In the next few hours, a technical correction is expected towards the SMA of 21 located at 1.2729.
Since November 10, the Canadian dollar has been trading within a bullish trend channel. This channel remains intact. Amid a technical bounce around 1.2720, this level coinciding with the bottom of the bullish trend channel will be a good opportunity to buy with a target at 1.2817.
As USD/CAD is above the 21 SMA located at 1.2729, we have a good opportunity to buy in the next few hours. On the contrary, if the loonie remains below this level, we should expect a technical rebound around 1.2720 (bottom of uptrend channel) and 1.2695 (8/8).
Our forecast in the next few hours for the loonie is a consolidation below 1.2817. As long as USD/ CAD is trading below this zone, we will have an opportunity to sell with the target at 1.2729 (21 SMA). If 8/8 is broken, we could sell with targets at 1.2570 (200 EMA).
The market sentiment report for today, November 30, shows that there are 50.61% of operators who are selling the USD/CAD pair. This data provided a bullish sign in the short term (It is bullish because investors act against the trend). Therefore, the price may again resume its upward movement with the target at 1.2939. The confirmation will happen if it consolidates above 1.2817.
The eagle indicator is showing a bearish bias, moving below a trend channel. A recovery is likely to follow in the coming days as long as the pair remains below 1.2817.
Support and Resistance Levels for November 30, 2021
Resistance (3) 1.2848
Resistance (2) 1.2817
Resistance (1) 1.2779
----------------------------
Support (1) 1.2737
Support (2) 1.2695
Support (3) 1.2633
***********************************************************
A trading tip for USD/CAD November 30, 2021
Sell below 1.2772 (+1/8) with take profit at 1.2729 (SMA 21), stop loss above 1.2805.