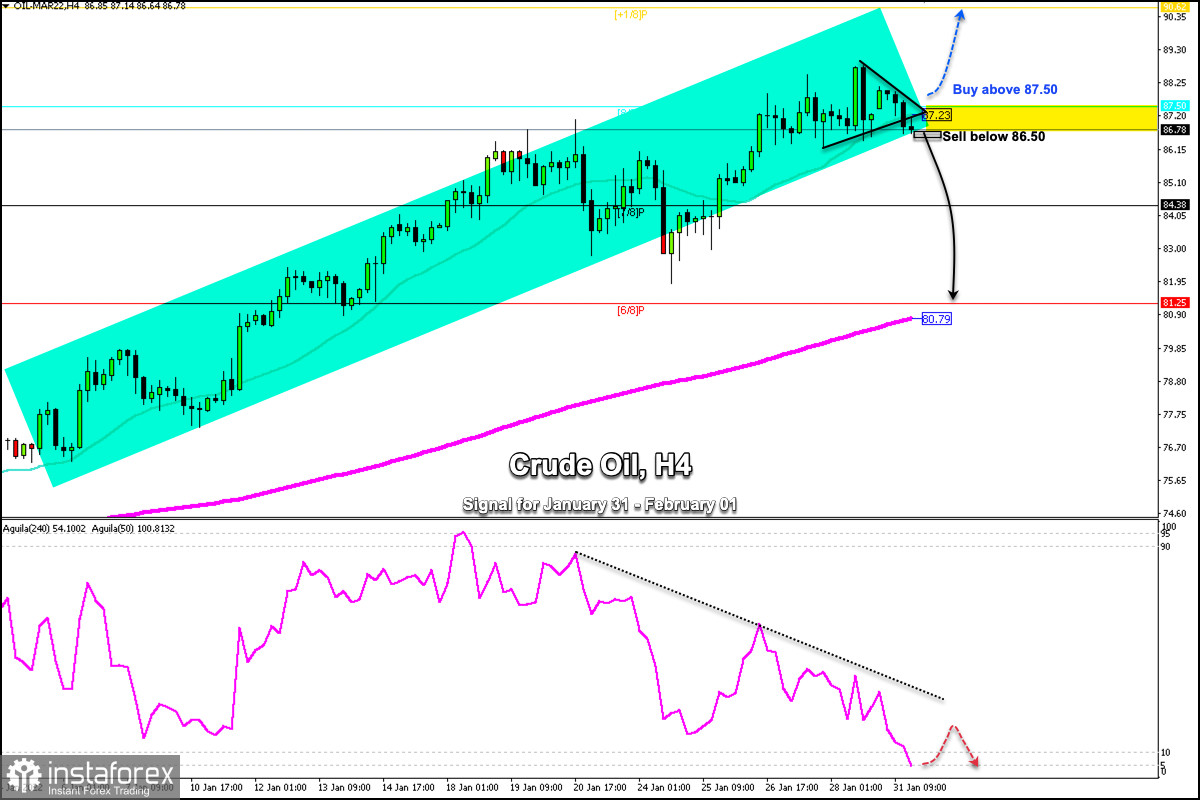 Crude oil (WTI-#CL) rose sharply above $88 per barrel. Brent crude hit $90 per barrel, accumulating a gain of more than 35% early this year.
Crude oil is rising due to the escalation in the Middle East with explosions in Iraq and the United Arab Emirates. The events raise concerns about future oil deliveries and help the commodity market continue to rise.
According to the H4 chart, WTI has a very bullish bias. Currently trading below the 21 SMA located at 87.23, a correction for further bullish momentum is likely with targets at 90.62
On the other hand, a close below 86.50 on the 4-hour chart will be the confirmation of the break of the uptrend channel. Thus, a decline could occur towards 7/8 Murray around 84.38.
Bsides, the eagle indicator is giving oversold signals. So, a new bullish momentum is likely with targets towards 90.62. Confirmation will occur if WTI trades back above 87.50.
Our trading plan is to wait for both levels to be able to take an opportunity either buy or sell. Given that crude oil is strengthening due to geoploitical tensions between Russia and Ukraine as well as due to supply disruptions in Iraq and the United Arab Emirates, it is likely that in the medium term it will continue its upward trend.
Support and Resistance Levels for January 31 - February 1, 2022
Resistance (3) 89.06
Resistance (2) 88.28
Resistance (1) 87.49
----------------------------
Support (1) 86.18
Support (2) 85.11
Support (3) 84.38
***********************************************************
Scenario
Timeframe H4
Recommendation: sell below
Entry Point 86,50
Take Profit 84.38 (7/8); 80.75 (200 EMA)
Stop Loss 87.70
Murray Levels 90.60 (-1/8) 87.50 (0/8) 84.38 (1/8) 81.25 (2/8)
***************************************************************************