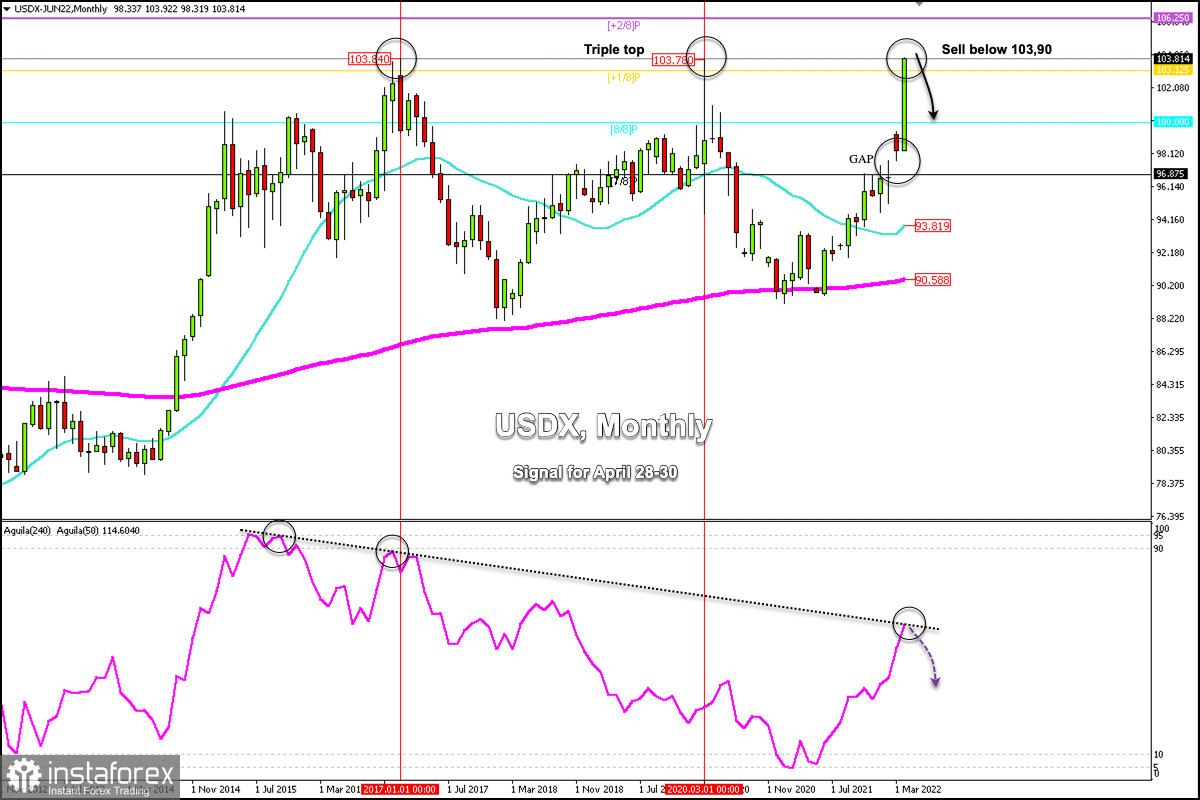 US Dollar Index, which measures the strength of the dollar, remains firm above the level of 103.12 (+1/8 Murray).
Early in the American session, the US Dollar Index (USDX) reached the level of 103.922. It surpassed the price levels of January 2017 (103.84) and March 2020 (103.78). The dollar index is likely to gain more strength and could reach +2/8 Murray at 106.25 in the next few months, but before a technical correction should follow.
USDX continues to advance and is now above the 103.92 level. It has printed a new high, surpassing the level of 103.84 last seen in January 2017. The sentiment around the dollar remains bullish supported by the conviction of investors of a tighter monetary policy by the Federal Reserve.
Another factor keeping the dollar strong is global risk aversion. Lingering geopolitical concerns also do not add to the optimistic sentiment. Rebound in US Treasury yields contributes to the greenback's bullish momentum.
Meanwhile, the probability of a stricter adjustment of the Fed's monetary conditions continues to be the main driver of the strong upward movement of the dollar index during this month of April.
According to the monthly chart, we can see that from the 200 EMA located at 90.58, approximately 11 months ago, the dollar index started a technical bounce and is now reaching overbought levels.
The last bullish candle formed in early April around 98.31 is extending above 8/8 Murray and now breaking a zone of one-year highs. A triple top pattern is likely to be underway. So, we should expect an imminent correction below 103.90 in the next few days.
On the monthly chart, we can also see the eagle indicator that has reached the top of the downtrend channel. It is a sign that a correction in the dollar index could occur in the coming days and it could decline to the psychological level of 100.00.
A technical correction below 103.90 could set the stage for the recovery of the euro, pound and the other currencies trading against the US dollar. It could also encourage positive sentiment and investors could return to risky assets which could also favor the recovery of the Wall Street indices and cryptocurrencies.