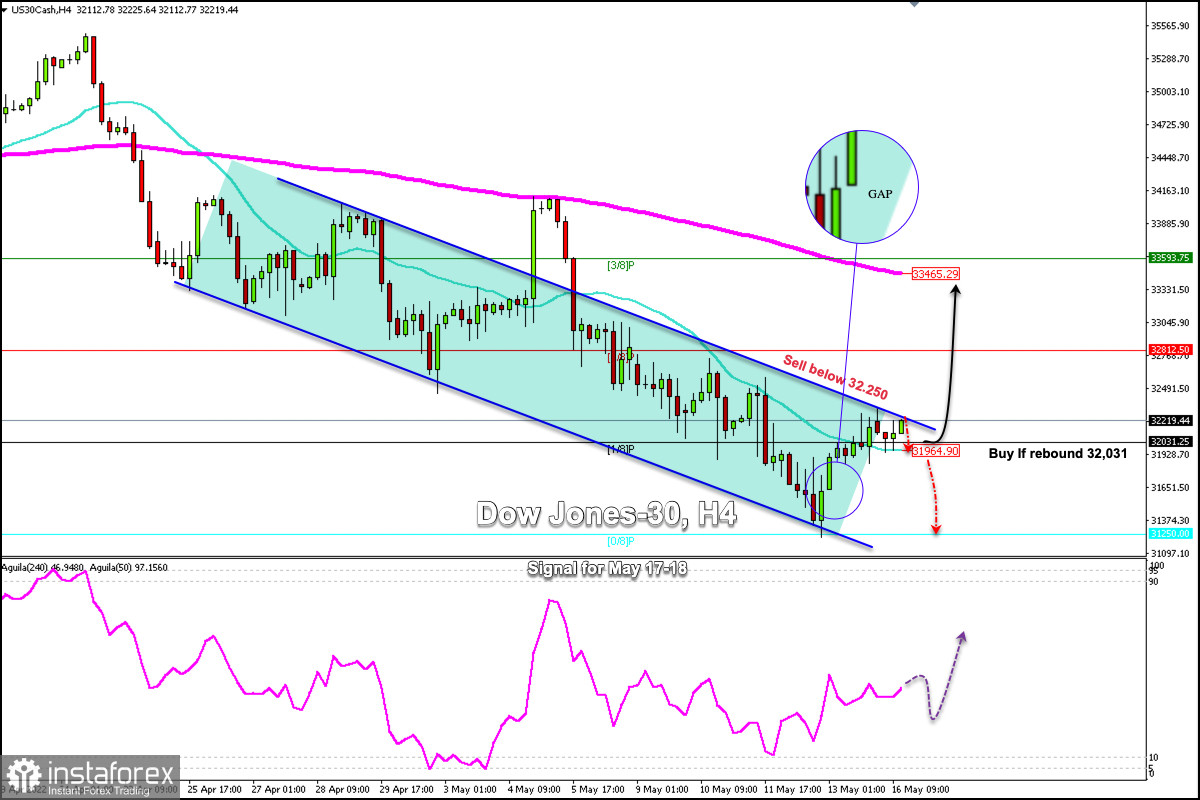 Dow Jones-30 Industrial Index (#INDU) is trading above the 21 SMA and below the downtrend channel formed on April 22.
Wall Street got some relief on Friday as all major indices advanced for the session. The Dow Jones closed with a 1.5% gain, the Nasdaq rose 3.7%, and the S&P 500 ended the day with a jump of 2.4%.
On the other hand, this rally in the DJ30 should be considered a technical correction, so that it can resume its overall downtrend.
A factor that puts pressure on the Dow Jones-30 is the US Fed since last week it confirmed the fear that investors had. The Fed wants the lower markets, on everything.
Fed members said that conditions need to tighten, and this means that the Dow Jones could continue to be under strong downward pressure in the medium term and could even break the support at 31,250 (0/8 Murray) and reach the psychological level of 30,000 points.
According to the 4-hour chart, we can see that the Dow Jones-30 is testing the top of the downtrend channel. If it fails to break above, a strong technical correction is likely and it could fall towards the 21 SMA located at 39,964.
As long as the Dow Jones-30 trades above the 21 SMA, there is some chance of a continuation of the bullish movement. However, a daily close below this level could accelerate the bearish move and the price could drop to 0/8 Murray around 31,250.
Additionally, we can see a gap left by the Dow Jones at around 31,700 at the opening of the Asian session on Friday. If the index breaks below 31,900 in the next few hours, it could fall and cover this GAP.
Our trading plan for the next few hours is to sell Dow Jones at current levels (32,250) or wait for a technical bounce around the 21 SMA (31,964) or 1/8 Murray (32,031) to buy.