It is quite obvious that after the vague results of the meeting of the European Central Bank's board, the main event of the past week was the preliminary data on inflation in the euro area. And to everyone's dismay, inflation accelerated from 3.4% to 4.1%. Of course they expected growth, but only up to 3.6%. And such a strong rise in inflation, especially in conjunction with the complete inaction of the European Central Bank, naturally led to a rapid fall in the single European currency. The only question is why all this happened only a few hours after the publication of inflation data. Apparently, the hitch arose due to the data on GDP in the euro area, which turned out to be slightly better than forecasted. The annual data fully matched the forecasts, and the rate of economic growth slowed down from 14.2% to 3.7%. But the quarterly data showed that the economy grew by 2.2%, while growth was expected by only 2.0%. Apparently, European traders seized on this as a lifeline, but they had enough strength to hold on only until the opening of the American trading session. Investors on the other side of the Atlantic looked at the situation much more realistically, and began a massive sell-off of the single European currency. Today, due to a completely empty macroeconomic calendar, as well as a large-scale decline on Friday, we should expect a local rebound.
Inflation (Europe):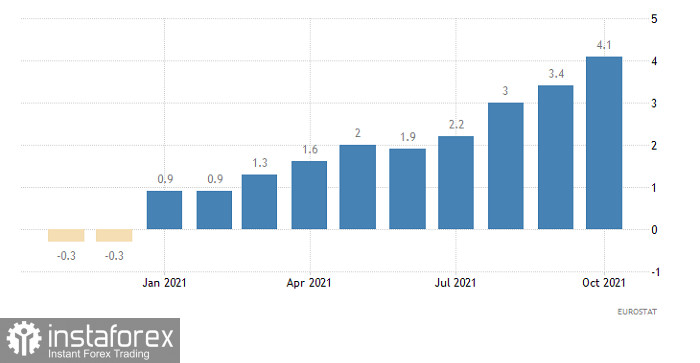 The European currency fell by more than 140 points last Friday, which is considered a rare speculative manifestation in the market. The technical instrument RSI locally dropped below 18% in the hourly period. This signaled a high oversold level in the euro.
From the point of view of market cycles, there is an almost complete recovery of the price relative to the corrective move 1.1524 ---> 1.1692.
Expectations and prospects:
In this situation, we can assume that for a while there will be a stagnation-rollback relative to the pivot point 1.1535. This will lead to a regrouping of trading forces, which will have a positive effect on the volume of short positions.
The subsequent signal to sell the European currency will occur when the price is kept below 1.1520.
Comprehensive indicator analysis gives a sell signal based on short-term and intraday periods due to the inertial downward trend.