EUR/USD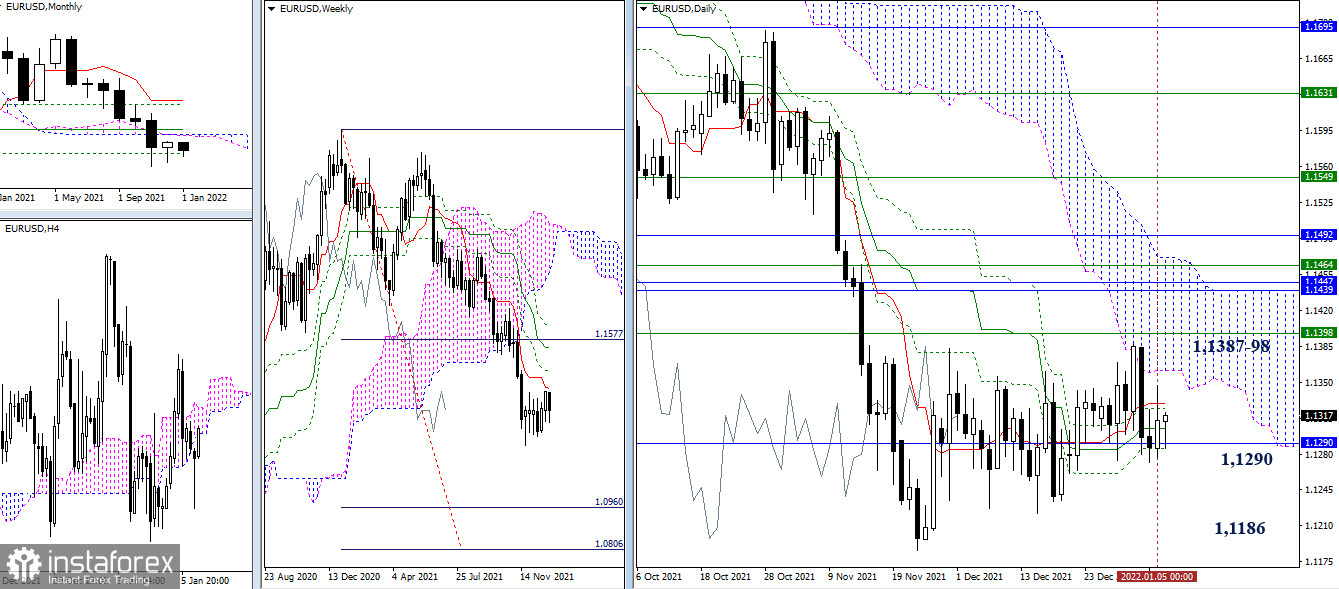 The euro returned to the middle of consolidation at the beginning of the new year, continuing to trade within it. Market participants are still taking a wait-and-see attitude. The center of the current consolidation has been the union of the daily Ichimoku cross and the monthly Fibo Kijun (1.1290) for a long time. Leaving and consolidating outside the consolidation can change the current situation, so the pivot points can now be marked at the border of the maximum (1.1387) and minimum extremes (1.1186). The weekly short-term trend (1.1398) is currently strengthening the highs.
The struggle continues for the key levels in the smaller timeframes, which are set at 1.1312-16 (central pivot level + weekly long-term trend) today. Trading above these levels gives some advantage to the bulls. The resistances of the classic pivot levels R1 (1.1348) - R2 (1.1382) - R3 (1.1418) serve as pivot points to recover the bullish positions today. On the contrary, the bearish mood will strengthen if the bears manage to consolidate below 1.1312-16. The supports of the classic pivot levels S1 (1.1278) - S2 (1.1242) - S3 (1.1208) can be considered in this case.
GBP/USD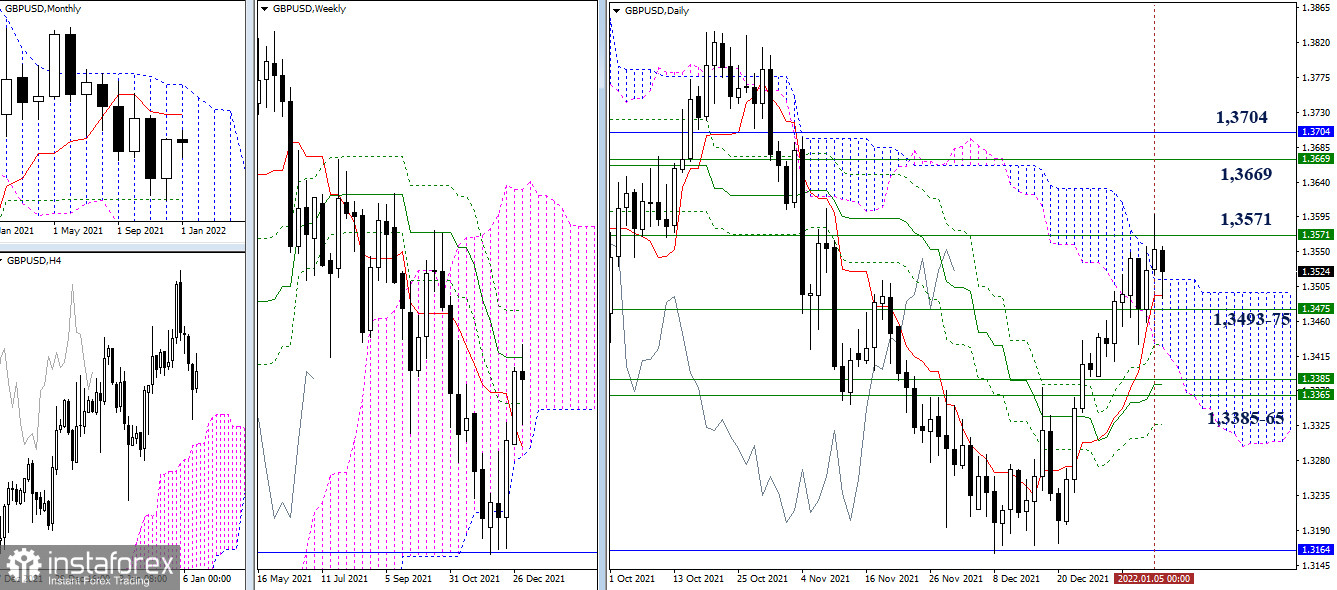 The pound is busy trying to break through the weekly medium-term trend (1.3571) and the daily Ichimoku cloud (upper border of 1.3514). Their breakdown will form an upward target, open up opportunities to eliminate the weekly dead cross (1.3669 closing line), and allow us to recover the monthly short-term advantage (1.3704). The closest support can now be designated at 1.3493-75 (daily short-term trend + weekly Fibo Kijun) and 1.3385-65 (weekly levels).
The pair is in the downward correction zone of the smaller timeframes, testing the most important support level, namely the weekly long-term trend (1.3512). A consolidation below it could change the current balance of power, favoring stronger bearish sentiment. In this case, the supports of the classic pivot levels (1.3480 - 1.3440) will become the downward pivot points. In turn, the formation of a rebound from the encountered support and the return of the central pivot level (1.3557) can help the bulls to restore their positions, complete the decline and create new upward prospects, i.e continuing the upward trend and reaching the high of 1.3598.
***
Ichimoku Kinko Hyo (9.26.52) and Kijun-sen levels in the higher time frames, as well as classic Pivot Points and Moving Average (120) on the H1 chart, are used in the technical analysis of the trading instruments.