US stock index futures were largely unchanged on Tuesday compared to Monday. However, the market still faced pressure ahead of US CPI data. Dow Jones futures added 20 points or 0.1%. S&P 500 futures increased by 0.1%, while Nasdaq 100 futures remained unchanged. Investors awaited the release of US CPI data for March. Inflation in the US was projected to jump by 8.4% year-over-year, reaching the highest level since December 1981. Fuel, energy, and rent prices were expected to be the main drivers of inflation.
There's a possibility that inflation can exceed expectations - its jump in February increased expectations of more aggressive Fed monetary tightening. The US regulator has already increased the interest rate in March, but it was clearly not enough to stem inflation. If price growth ends up below expectations, it would reduce the chances of a more hawkish Fed policy shift, severely weakening USD and sending stock indexes skywards. Yesterday, the president of Fed Reserve Bank of Chicago Charles Evans stated the Federal Reserve should return the interest rate to the neutral level of 2.25-2.5% as soon as possible. According to Evans, the Fed could reach this level by March 2023. However, the Fed funds rate could already be increased to 2.25% by December 2022. In March, Fed policymakers signaled they expected interest rates to reach 1.9% by the end of 2022 and 2.8% by the end of 2023.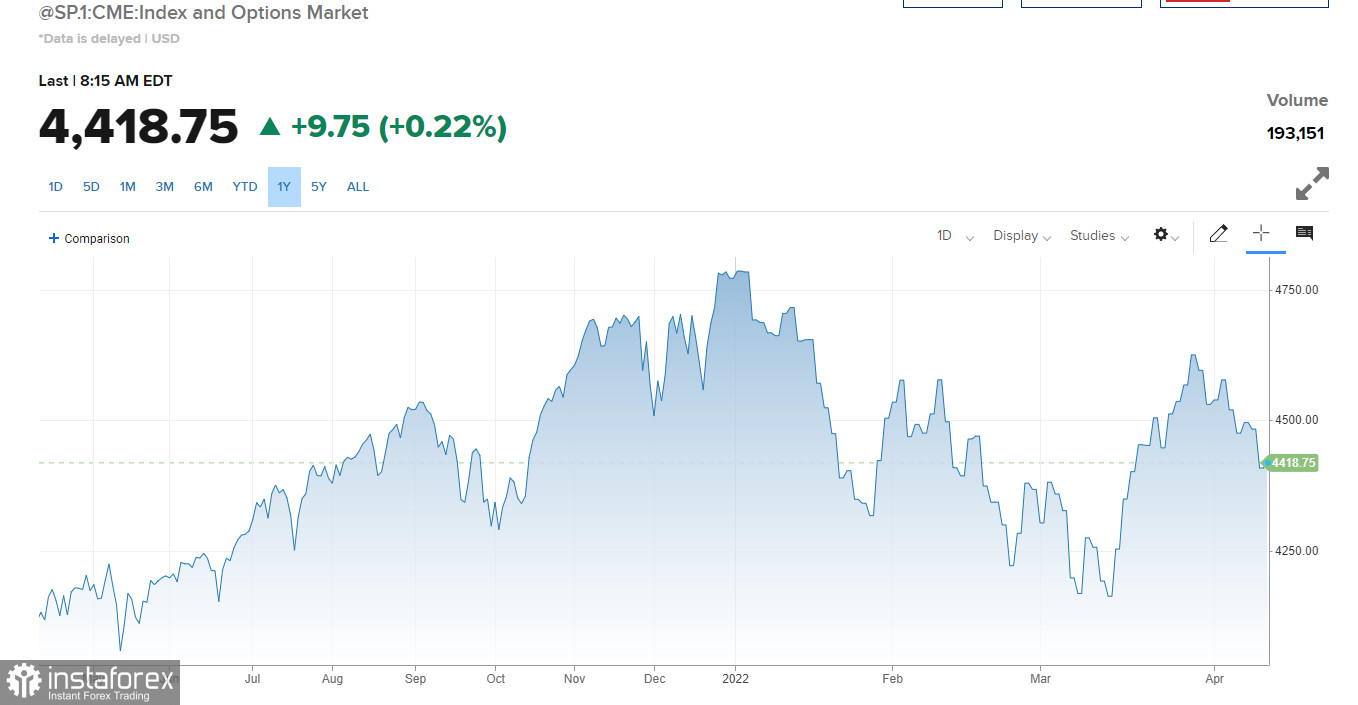 The yield of 10-year US treasury bonds jumped to 2.801% on Tuesday, reaching the highest level since 2019.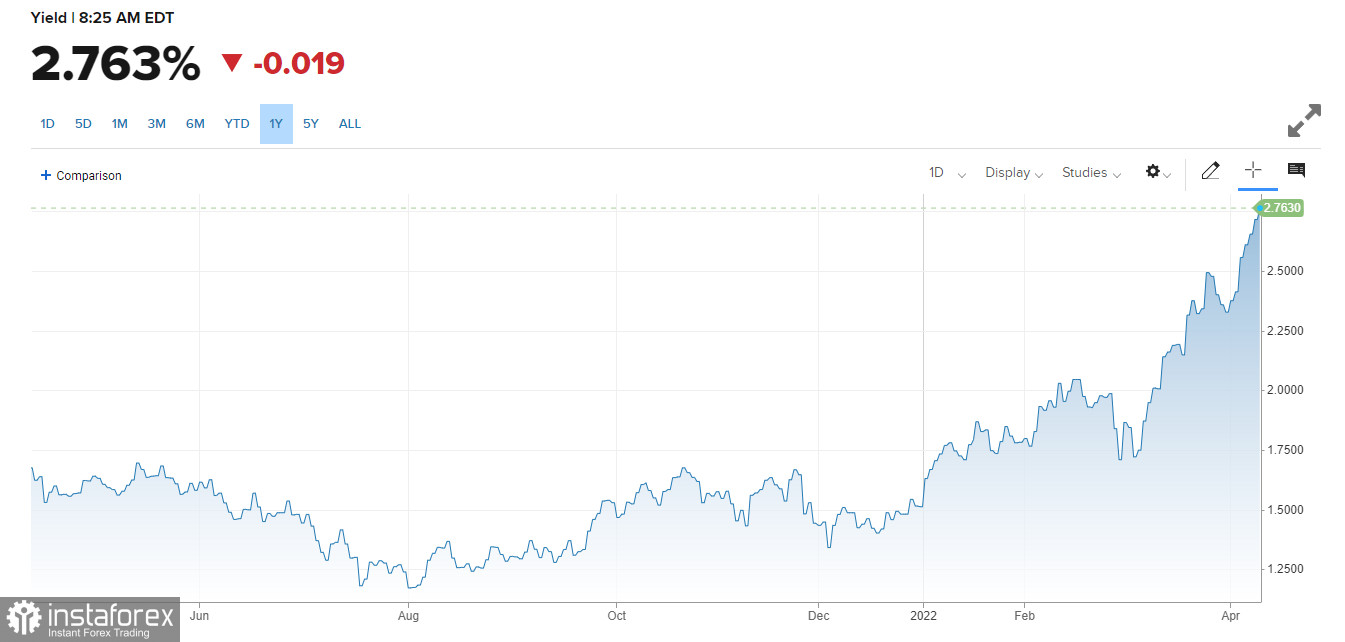 Oil prices rebounded strongly after WTI hit a monthly low of $93 per barrel. The benchmark Brent crude oil jumped by 4.3% to $102.74 per barrel. WTI futures rose by 4.1% to $98.17 per barrel.
Premarket movers
Tomorrow, JPMorgan and Delta Air Lines will release their earnings reports, followed by several major banks on Thursday. Shares of European banks decreased, as concerns about the war in Ukraine and the real chance of a recession has negatively affected earnings estimates. Deutsche Bank AG and Commerzbank AG tumbled after stake sales worth a combined $1.9 billion.
Shares of Hewlett Packard Enterprise fell by 3.5% during the premarket after Morgan Stanley downgraded the stock to "underweight" from "equal weight" as part of an overall downgrade of the telecom and networking equipment industry. Morgan Stanley sees orders in the industry decline in the second half of 2022.
Deutsche Bank (DB) lost 1.3% in premarket trading after a shareholder sold a 5% stake in DB and its rival lender Commerzbank for about $1.9 billion.
Shares of Cisco Systems decreased by 2.6% during the premarket after Citi downgraded Cisco to "sell" from "neutral," stating that the networking equipment company could lose its market share to competitors, Juniper Networks and Arista Networks.
On the technical side, S&P 500 bulls lost $4,433 yesterday. Regaining lost ground would be the primary goal for bullish traders today. Amid pessimism in the market, a failed attempt to settle above $4,433 early in the session could trigger another sell-off and push the index towards the closest support level of $4,383. A breakout below this level would cause the S&P 500 to fall towards the lows at $4,319 and $4,265. Bullish traders can only regain the initiative if the index settles above $4,433 - from there, the S&P 500 would test the resistance at $4 488 and $4 539. A breakout above this area would open the way towards the highs at $4,589 and $4,637.