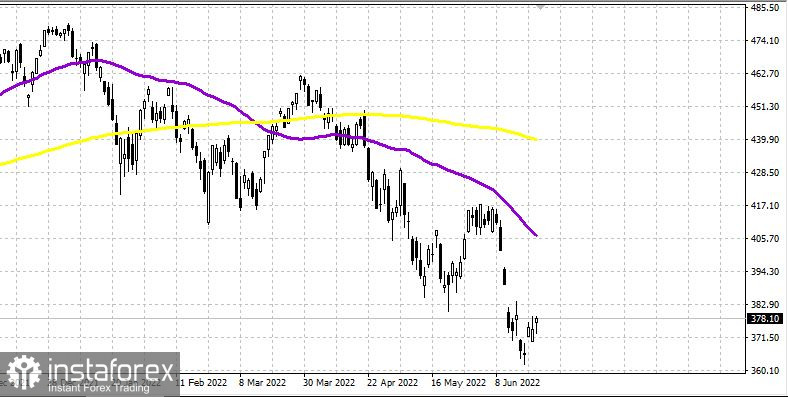 S&P 500
Review for June 24, 2022
The US market is trying to edge higher.
Major US stock indices rose on Thursday: the Dow Jones added 0.6%, the NASDAQ Composite advanced by 1.6%, and the S&P 500 index jumped by 1%.
S&P 500: 3,796. Trading range: 3,750 - 3,860
Markets have been optimistic since Friday morning: S&P 500 futures continued their rally and gained 0.6% in early trade.
Thus, the US stock market is on track for its first weekly gain after three weeks of punishing losses.Indices of Japan and China are also gaining value. Japan's Nikkei index added 1%, while China's benchmark rose by 1.3%.
Top news as of Friday morning:
EU officials stated that it would take measures to normalize the land transit of goods between Kaliningrad and other parts of Russia. They explained that the sanctions imposed against Russia were not meant to blockade Kaliningrad. Thus, the EU restrictions would be adjusted.
Food crisis: British Prime Minister Boris Johnson said Britain would join Turkey in seeking to ensure safe navigation for ships in the Black Sea. He noted that the country would take rapid and practical steps in that regard.
Energy crisis in Europe: Germany has gone a step further and has declared the second level of its energy emergency plan in the face of a sharp reduction in Russian gas supplies in recent weeks. According to experts, the average daily supply volume of Russian gas dropped to 100 million cubic meters. In 2019-2020, the average daily pipeline gas supplies from Russia to the European Union ranged between 400-500 million cubic meters. Germany intends to introduce emergency plans for this case and provide an additional 15 billion euros in credit lines for the purchase of gas to replenish storage facilities. This is a negative factor for the German economy, for consumers, as well as for the EU economy. However, the positive factor is that the German authorities have finally realized the gravity of the situation. The necessary measures have been taken and there is at least 5 months left before winter frosts.
Yesterday, the US released its weekly jobs report. Jobless claims remained unchanged at 230,000. The number of long-term unemployed also held steady at 1.3 million.
Energy: India will provide safety certification for dozens of ships carrying Russian oil to the country. Oil prices are still high, with Brent crude trading at $110. The energy crisis supports oil prices despite clear signs of a slowdown in US and European economies.
The dollar is range-bound. The US dollar index is trading at 104.20. The euro is also moving in a range as investors are assessing the Fed's intention to continue its fight against inflation.
Conclusion: US stocks are likely to close higher. However, there are a lot of negative fundamental factors, which may trigger another sell-off.