EUR/USD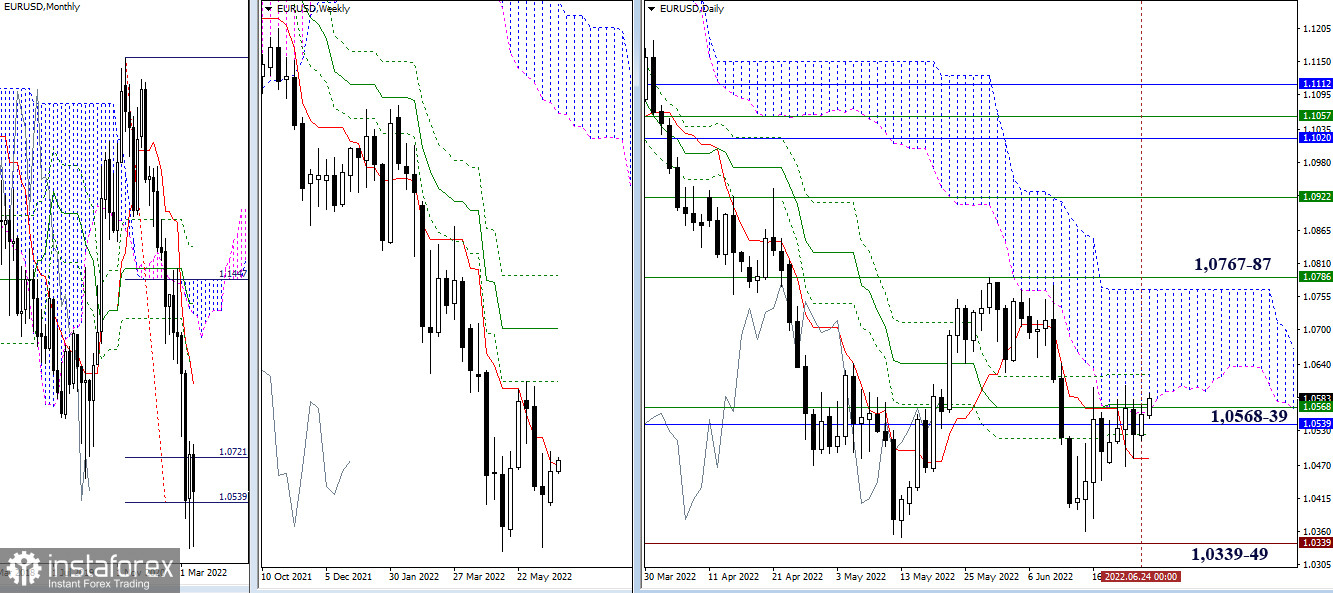 Higher timeframes
The weekly short-term trend went down and now the main zone of attraction, where the levels of different timeframes have united, is located in the area of 1.0568 – 1.0539. The exit from the zone of the current consolidation, and the liquidation of the daily Ichimoku cross (1.0624) will open up prospects for a rise to the important resistance level of 1.0767 – 1.0787 (the upper limit of the daily cloud + weekly Fibo Kijun). The preservation of consolidation and further activity of the bears will allow considering plans to return to the supports of 1.0339 – 1.0349 (local low). Consolidation below will restore the downward trend on all higher timeframes.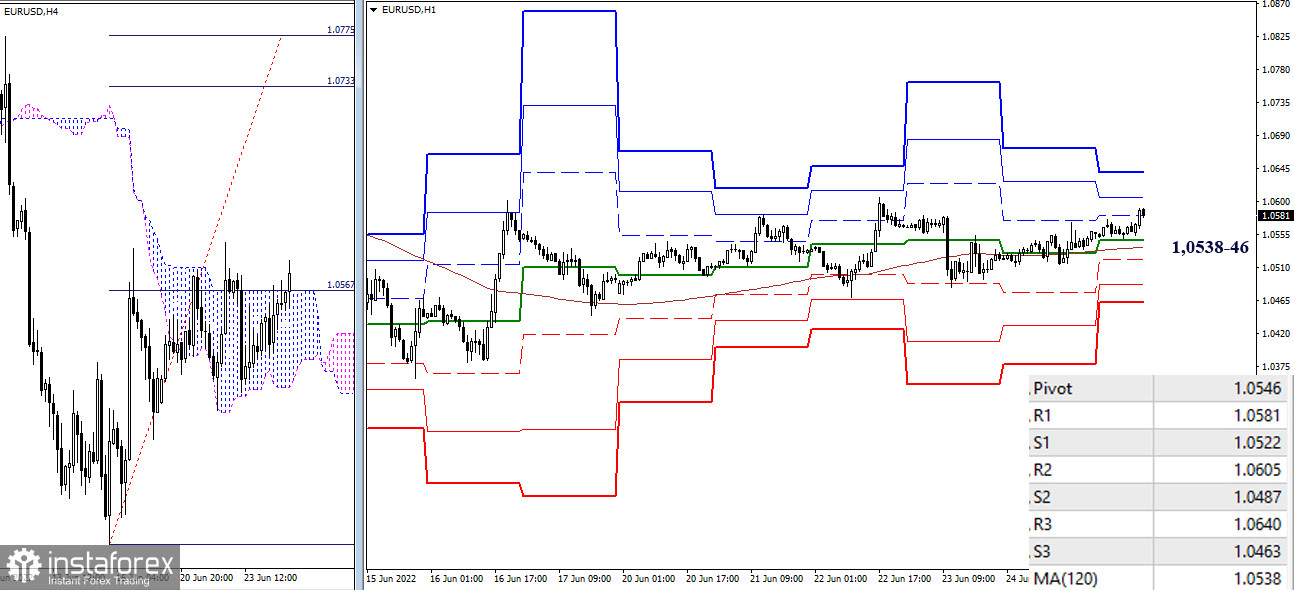 H4 – H1
The uncertainty of the higher timeframes has led to the pair spinning around the key levels in the lower timeframes, consolidating in their zone of attraction. At the moment, key levels are located at 1.0538–46 (central pivot point of the day + weekly long-term trend). Finding and working above the levels gives preference to the development of bullish sentiments, their further reference points for the rise today can be noted at 1.0581 – 1.0605 – 1.0640 (resistance of the classic pivot points). Consolidation below key levels will support a shift in priorities in favor of the bears. The downward reference points within the day will be the support of the classic pivot points (1.0522 – 1.0487 – 1.0463).
***
GBP/USD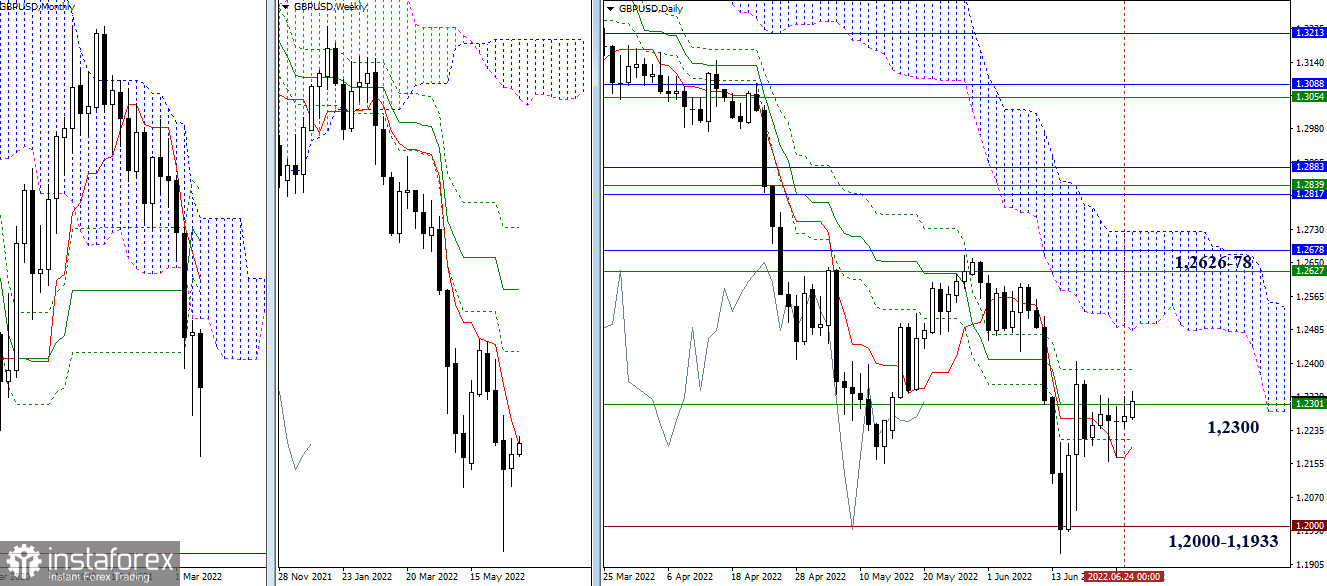 Higher timeframes
The center of attraction is now the weekly short-term trend (1.2300). If the pair leaves the consolidation zone and liquidates the daily death cross (1.2386), then the resistance of the daily cloud (1.2500 – 1.2727), reinforced by weekly (1.2626) and monthly (1.2678) levels, will wait for it. If the bears manage to maintain their ability to decline, coming out of this confrontation, then the support area of 1.2000 – 1.1933 is waiting for them. Consolidation below will allow us to consider new downward prospects.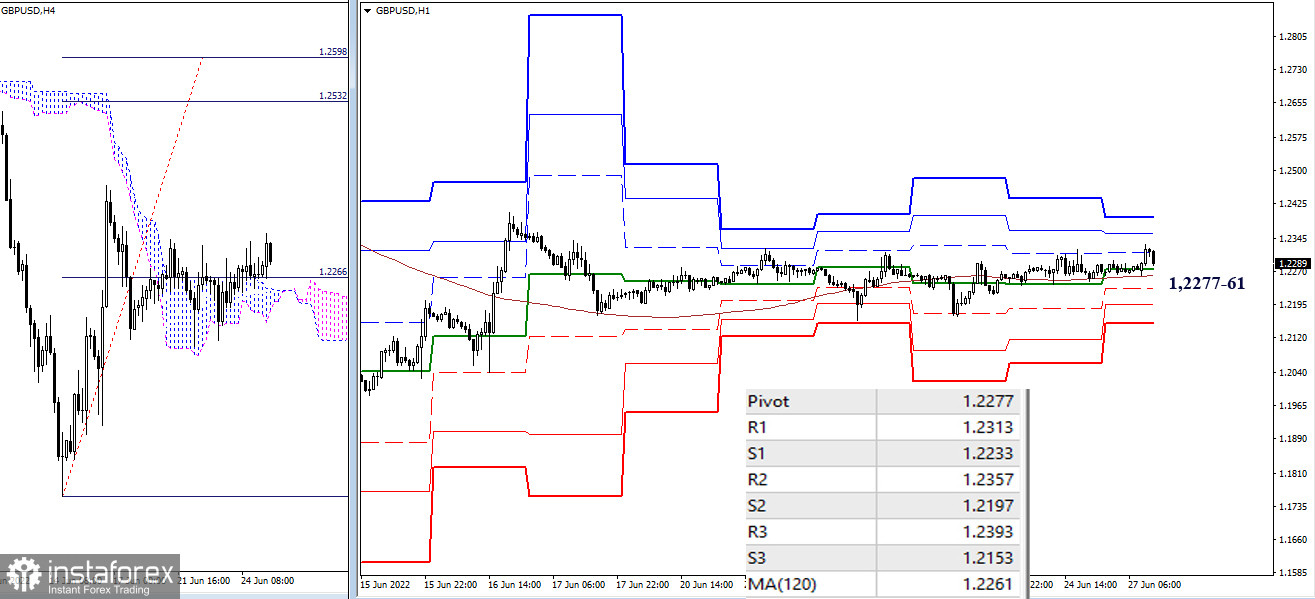 H4 – H1
On the lower timeframes, the pair has been in the zone of influence and attraction of key levels for a long time (1.2277 central pivot point of the day + 1.2261 weekly long-term trend). At the same time, on H4, bullish players managed to enter the bullish zone relative to the Ichimoku cloud. As a result, resistance and reference points for the rise in the lower timeframes can now be noted at 1.2313 – 1.2357 – 1.2393 (resistance of classic pivot points) and at 1.2532 – 1.2598 (H4 target). If the priorities change and the activity will be inherent in bears, then their reference points for a decline within the day can be noted at the supports of 1.2233 – 1.2197 – 1.2153 (classic pivot points).
***
In the technical analysis of the situation, the following are used:
higher timeframes – Ichimoku Kinko Hyo (9.26.52) + Fibo Kijun levels
H1 - Pivot Points (classic) + Moving Average 120 (weekly long-term trend)