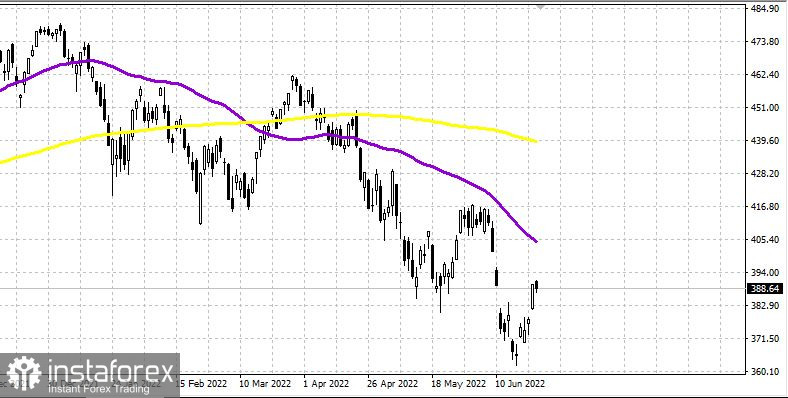 S&P500
Review on June 28
The US market continues to grow.
Yesterday, major US stocks declined moderately at the opening of the week: the Dow Jones Industrial Average fell by 0.2%, the NASDAQ Composite index lost 0.7%, the S&P500 went down 0.3%.
The S&P500 is trading at 3,900, the possible range is 3,860 - 3,940.
Yesterday, a positive US Durable Goods Orders report was published: the orders rose significantly, i.e. by 0.7%. This figure is above the previous level and the forecast. This is positive news.
Another report showed that home sales ended its fall. The sales rose by 0.7% after they dropped by 4%.
EU: NATO will sharply increase its military contingent in the EU, including Eastern Europe. Currently, there are 40,000 military personnel in the bloc. NATO will plan to expand it to 300,000.
Germany: Consumer confidence has dropped to a record low of 27.4. The reasons for it are rising fuel and energy prices and expectations of an energy crisis next winter. Moreover, Germany's industry will face hardships until the country finds an alternative for Russian gas.
Energy:
At the same time, the EU energy system is trying to adapt to a sharp reduction in Russian gas supplies. Europe's gas storage facilities are 55% of capacity; there are no immediate risks. Oil prices rose by 1.5%. Brent crude oil is trading at $116.70. The oil market is experiencing a decline in oil supply.
The key news for the US market: the US PCE inflation report for May will be released on Thursday, June 30. Economists expect the PCE price index to grow by 0.7%.
Conclusion: S&P500 futures gained by 0.3% at the opening. Overall, the market remains flat, its activity has dropped and there is not much news. Moreover, market players' activity usually declines in the middle of summer. It is possible to buy only after the market makes a significant downward pullback, clearly visible on the daily chart.