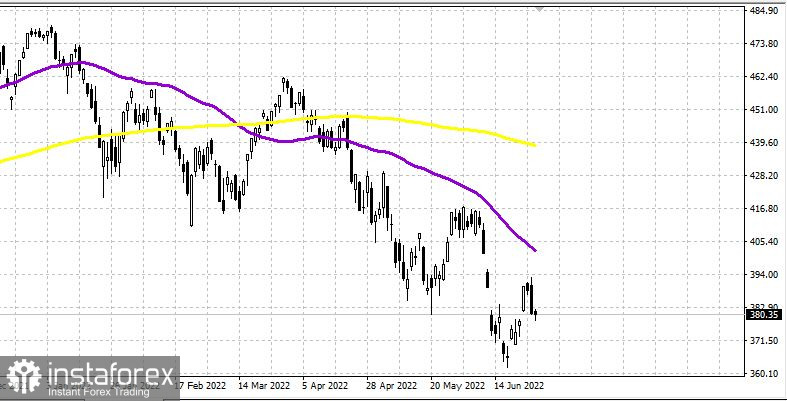 S&P500
Review on June 30
Flat period before US inflation report.
Key US stock indices little changed on Wednesday: the Dow Jones Industrial Average added 0.3%, the NASDAQ Composite index lost 0.1%, the S&P500 Index fell by 0.1%.
The S&P500 is trading at 3,819, the possible range is 3,780 - 3,860.
Today, S&P500 futures dropped by 0.8%.
Japan stock indices were down 1.8% this morning.
However, China's stocks rose by 1.8%. Moreover, China's ISM Services PMI is 54.7. That is considered the highest reading.
Energy: Crude oil prices remain at high levels. Brent crude oil is trading at $116.
China's industry ended its decline, the Purchasing Managers' Index is 50.2.
Food crisis: The transporters' strike began in Argentina amid problems with Ukrainian grain shipments.The volume of grain shipments dropped by 76%.
The S&P500 has lowered its forecast for China and the euro area GDP in 2023 by 3.3% and 2.6% respectively. Economists predict US GDP will grow by 2.4%.
However, these forecasts may be too optimistic in case countries around the world face stagflation.
Inflation in Germany fell slightly from 8% to 7.6%.
Russia's GDP fell by 4.3% in May. Inflation in Russia is now at 17% since the start of 2022.
Conclusion: Today, the US PCE inflation report is due at 15:30. Economists predict a significant rise up to 0.7%. This figure may hit the market badly. It is possible to buy aggressively after a pullback. Otherwise, it is better to buy after the market overcomes the weekly highs and closes above them.
Overall, the market has a flat period. The decline ended, the summer recession is observed. The market direction is clearly defined.