Today, on the last day of the month, quarter and half year, the dollar maintains a positive trend, while its DXY index remains close to 105.00. At the time of writing this article, DXY futures are trading near 104.81. Breakdown of the recent local high of 105.56 will be a signal to increase long positions in DXY futures with the prospect of growth towards multi-year highs of 121.29 and 129.05, reached, respectively, in June 2001 and November 1985.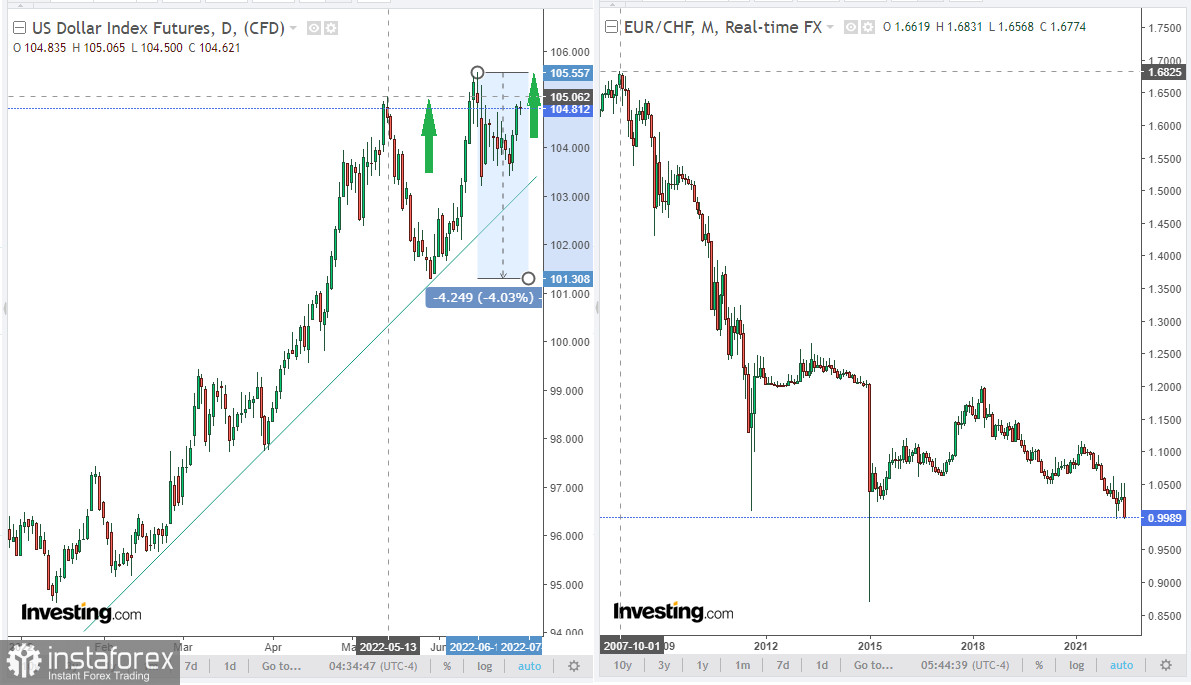 Meanwhile, the dollar's main competitor on the euro currency market has been declining since the opening of today's trading day both against the dollar and in major cross-pairs. The only exception here, perhaps, is the EUR/CHF pair. Except for its fall in the previous three weeks, today the pair stopped falling and even rose a bit since the day started.
In 2014, the Swiss National Bank introduced a negative deposit rate for the first time since 1970. At the same time, since September 2012, the SNB has been striving to maintain the EURCHF exchange rate at 1.2000 in order to contain the "excessive" strengthening of the Swiss franc and ease pressure on the country's exporters. And until 2015, it more or less succeeded. However, as risks increased and as the euro became cheaper, the fall in EUR/CHF turned into a steady downward trend from May 2018, and after the SNB unexpectedly raised the interest rate on deposits to -0.25% in the middle of this month (June 16), surprising investors and economists, who expected that the interest rate would remain at the same level of -0.75%, the EUR/CHF pair fell sharply, reaching a new local low since February 2015 at around 0.9963 yesterday. Recall that in January 2015, the SNB decided to abandon the pegging of the franc to the euro, also moving away from the target level of 1.2000 in EUR/CHF quotes. On that day (January 15, 2015), EUR/CHF fell by more than 20%, and at the end of January 2015, EUR/CHF was trading close to 1.0500.Following the SNB's decision in June to raise the discount rate by 50 basis points, its head Thomas Jordan noted that the Swiss franc is no longer heavily overvalued due to the recent decline.
The franc strengthened sharply after this decision by the SNB, and the EUR/CHF pair fell by 2.47% at the moment, to a local intraday low of 1.0130.
At the moment, the dynamics of EUR/CHF is dominated by bearish momentum. Therefore, its current growth should probably be considered as an opportunity to enter new short positions.