US stock futures fell on Tuesday after Walmart lowered its earnings forecast, sending other retail shares lower at the premarket. Dow Jones Industrial Average futures went down 146 points, or 0.5%. S&P 500 and Nasdaq 100 futures lost 0.3% each.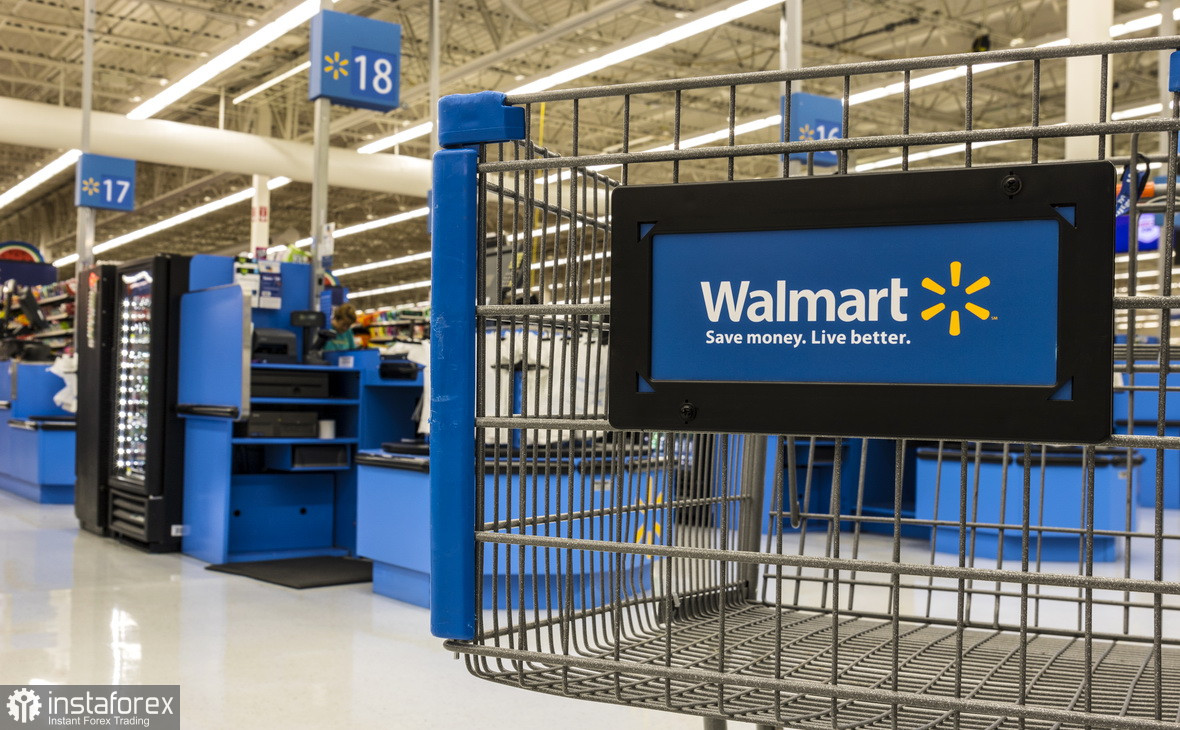 According to yesterday's report from Walmart, the company cut its quarterly and annual earnings forecast. The key reason for it was soaring inflation, mainly rising food prices. This alarmed investors. Moreover, they doubted further buying risky assets at current highs after a significant upward market correction. The large retailer said that high prices prompted consumers to cut down their expenses, especially on clothing. This situation will definitely lead to the economic slowdown. The Federal Reserve fears such consequences. Walmart stocks fell by 9% in the regular session amid this background, sending other retail shares lower. Target's shares are down 4.7%, and Amazon's stocks lost 3%. Shares of Macy's and Dollar General declined by 4.3% and 3.3% respectively.
Monday's close saw a slight correction after the drop, with the S&P 500 adding 0.1%, the Dow Jones Industrial Average up 90.75 points, or 0.3%, and the technology-heavy Nasdaq Composite down 0.4%.
This week, the NASDAQ companies will continue to report. Moreover, a two-day Fed meeting began on Tuesday. Therefore, the market players will lose their optimism in case of weak corporate reports, as the regulator will definitely raise the rates by another 0.75% tomorrow. Besides, it will likely announce that it will continue its aggressive policy this fall. If forecasts for 2022 will be published, it will definitely result in a massive surge in volatility. In that case, traders will face a lot of difficulties.
On Tuesday, Coca-Cola, McDonald's and General Motors released their reports. Alphabet, Microsoft, Chipotle Mexican Grill, UPS and Enphase Energy will release their reports later.
As for the key data, US consumer confidence and US new home sales were published on Tuesday. Both figures were weak, which could have a negative impact on the quotes.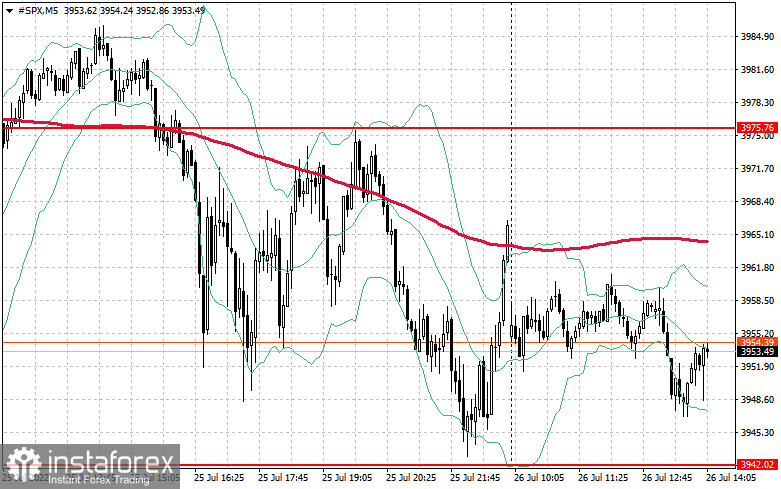 Technical picture of S&P500
The bulls lost ground yesterday and returned below $3,975. To achieve their goals, they have to regain control of this range rapidly. This move will shift the focus to the resistance of $4,013. Bulls failed to break through it last week. Only in this case a rapid growth of the index to the area of $4,050 is possible, as large sellers will return to the market. There will be at least some traders who want to lock in profits on long positions. A level of $4,089 will be considered a more distant target. In case the pressure formed by weak corporate reports returns, buyers will have to defend the nearest support of $3,942. Its breakout would push the index back to $3,905. If buyers miss that level, the index will go down to the area of $3,835. A more stable level of $3,801 is slightly below, where buyers will again act more aggressively.