The US dollar is so overbought that everyone is expecting a technical rebound. The BoE's decision to raise the benchmark rate by 50 basis points became a reason for the expected rebound. However, it could have occurred even without any reason. Curiously, just after the rebound, the pound sterling began losing value and returned to the levels recorded before the announcement of the BoE's decision. The fact is that yesterday, headlines were caught by news about industrial companies, especially German ones, that are planning to move their production from Western Europe. Extremely high energy prices are the key reasons for the relocation. Notably, most companies are considering the United States as a new place for their business. Although it is just a castle in the air, the idea itself is preventing the euro from a rise. The fact is that Europe is tipping into recession and is suffering from surging inflation. Against the backdrop, the closure of enterprises will only worsen the growing economic crisis. All these factors are contributing to the capital outflow from Europe to the US. The process is so large-scale that it is affecting the pound sterling, which continues losing value.
UK Key Interest Rate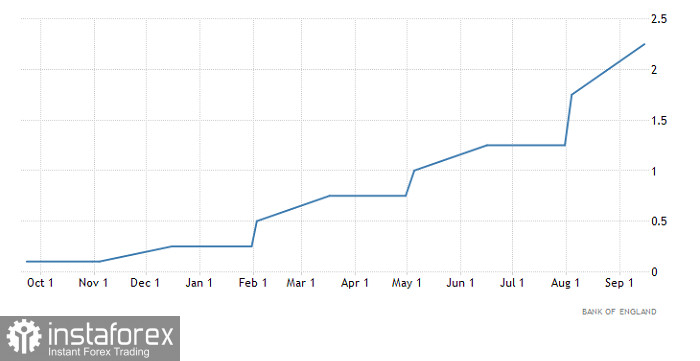 After a short-lived rebound, spurred by considerably overheated short positions, the pound sterling resumed falling. This proves bearish sentiment among traders.
On the daily chart and four-hour charts, the RSI technical indicator is hovering near the lower area of 30/50, which points to the fact that bears are controlling the market.
On the same time frames, the Alligator's moving averages are reflecting the global downtrend. There are no intersections.
On a daily period, we see the prolongation of the downtrend.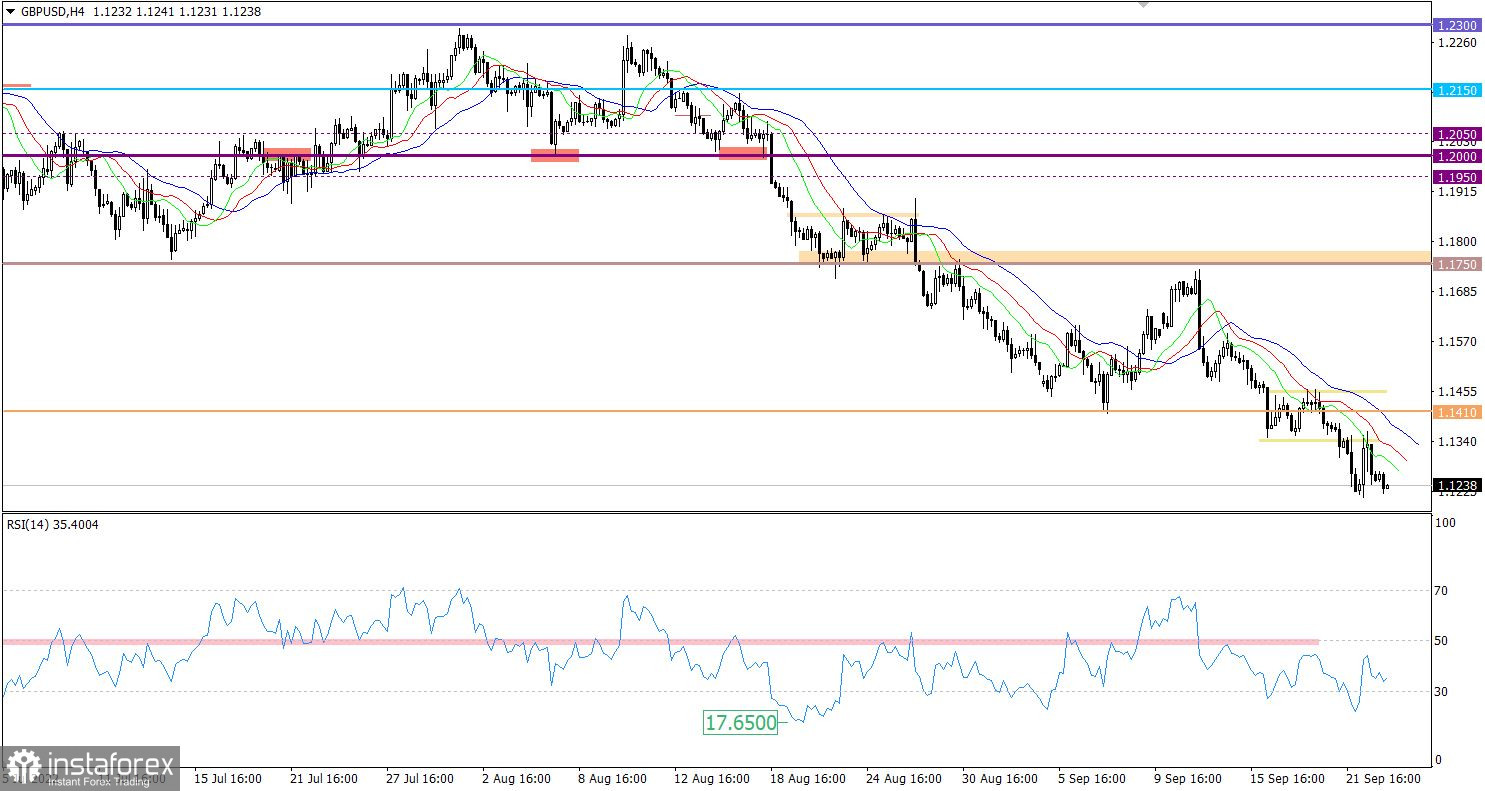 Outlook
Under the current conditions, the price settlement below 1.1200 will lead to another drop caused by an inertial movement and high speculative activity. If the predictions come true, the pound sterling may enter the oversold area. In this case, the currency may show a technical rebound.
According to the alternative scenario, the level of 1.1200 will act as support. If the decline slackens, the price will have a chance to rebound.
According to the complex indicator analysis, indicators are pointing to a downtrend in short-term, intraday, and mid-term periods.