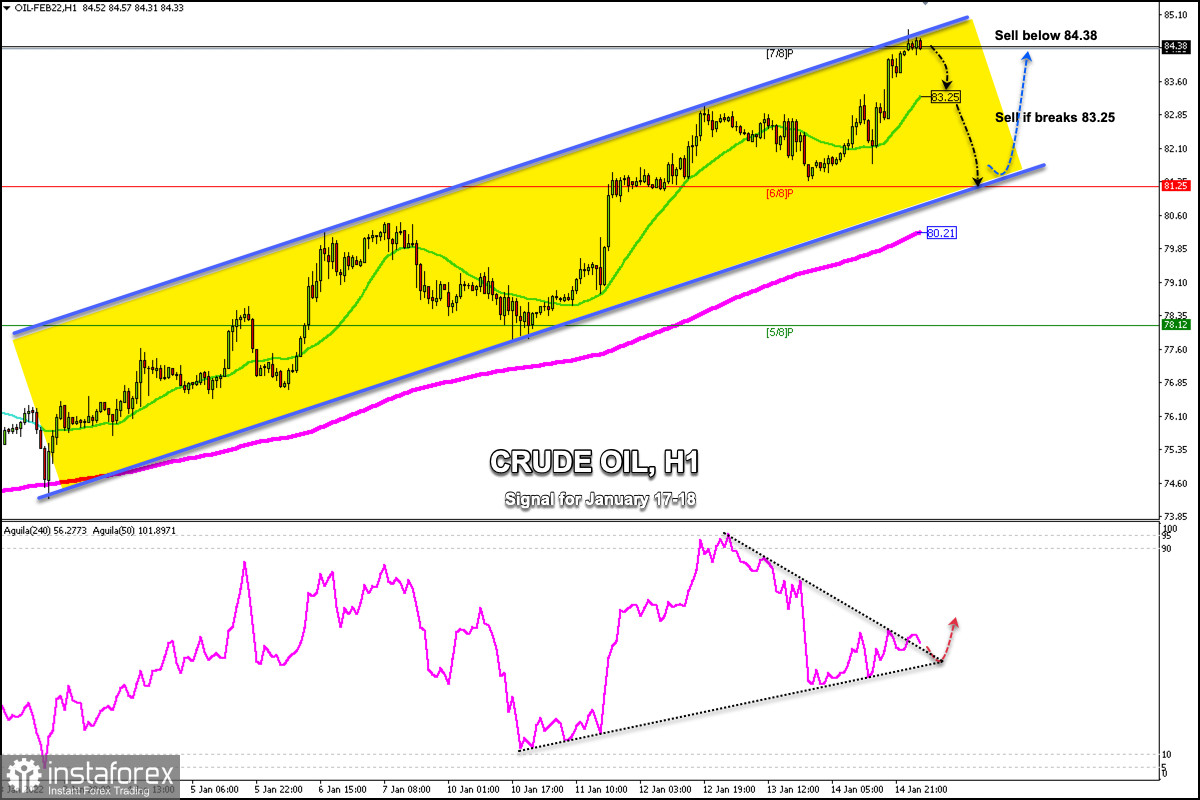 The barrel of Crude Oil (WTI - #CL) reached 84.76, the highest level since October 26. Currently, it is trading around 7/8 of Murray and has stopped its bullish bias below the top of the uptrend channel.
The WTI has strengthened in recent days as a result of the good expectations about oil demand for the coming months, together with the weakness of the US dollar and the good performance of the stock markets.
The US dollar fell to the area of 94.53 around 2/8 of Murray. From this level of strong support, the dollar has recovered and is now located above the 21 SMA on the 4-hour chart. It shows that it could continue this upward trend in the coming days.
A recovery in the dollar index (USDX) could play a role against the strength of crude oil. A weakness in the indices such as the Nasdaq 100 or the Dow Jones 30 could also affect the price of crude oil and we could expect a correction towards the support level of the 21 SMA located at 83.25 and down to 80.25 (200 EMA).
According to the 1-hour chart, since January 3, WTI started a strong bullish trend from the low of 74.33, and has gained more than 1000 pips in 14 days so far.
All the good performance that crude had, has led to showing signs of exhaustion and overbought signs. A technical correction is expected in the next few days because WTI is highly overbought.
The next immediate support levels are located at the SMA of 21 at 83.25. Following a sharp break of this moving average, we could expect a move down around 6/8 Murray and towards the bottom of the uptrend channel at 81.25.
The eagle indicator is trading above the uptrend channel and below other downtrend channels forming a triangle. According to the signal of the indicator, the trend tends to rise but the volume tends to fall. This could trigger a fall towards the 200 EMA located at 80.21 in the next few days.
Support and Resistance Levels for January 17 - 18, 2022
Resistance (3) 87.50
Resistance (2) 86.11
Resistance (1) 85.19
----------------------------
Support (1) 83.37
Support (2) 82.45
Support (3) 81.25
***********************************************************
Scenario
Timeframe H4
Recommendation: sell below
Entry Point 84.28
Take Profit 83.25 (21 SMA), 81.25 (6/8)
Stop Loss 84.75
Murray Levels 78.12 (5/8) 81.25 (6/8) 84.38 (7/8)
***********************************************************